For some people, October means pumpkin spice everything, or maybe it means cozy sweaters and haunted houses. For Tigris, October means it's crunch time; and as such, we've been working on the event production for a special function since April!
On Sunday, October 30, 2016, St. Joseph's Health Centre Foundation is holding its fifth annual Toronto West Halloween Fest, in the heart of Bloor West Village. This year, there will be a 1km Costume Parade through the neighbourhood with some special guests. Throughout the day, there will be exciting performances by Sharon and Bram, Think Fitness, Swansea School of Dance and a DJ Dance Party. Along the festival route, you'll find an interactive Hockey Zone presented by Scotia Bank, Christine Simpson's Spooksville, pumpkin decorating with Green Apple Kids and plenty of Halloween treats.
Event Production Including Permits, Decorations and More!

Event production for a large-scale event isn't an easy feat. Imagine closing down a major intersection through the City of Toronto; as you can imagine, it takes a lot of hard work, organizing and planning. For those of you who have planned an event before, you know a critical path is crucial to staying organized. It helps ensure you are completing tasks on time and nothing slips through the cracks. Below is a sneak peak of our critical path for St. Joseph's Toronto West Halloween Fest.
EVENT PLANNING // A conference call was organized between all those involved in the planning for this event in April. This call was utilized to discuss last years event, and how we can make this years event an even bigger success.
CITY OF TORONTO PERMITS // There were close to 10 applications and documents to submit to obtain the permit for the event. This includes:
*a street event application,
*approval from the office of emergency management,
*waste management permit,
*noise exemption permit,
*temporary food establishment permit,
*notice to community residents,
*traffic control plans,
*a master site map
*$5M liability insurance
FLOW OF EVENT & SITE MAP // Develop event map with vendor areas and consumer traffic flow. It's crucial to know where everything is going and how the day will flow.
MASCOTS & ENTERTAINMENT // Sourcing the perfect performers to keep the crowds entertained! Last year, almost everyone was dancing along to our performers, Splash n' Boots. We can't wait to see how the crowd will react to this years performances!
SPONSORSHIP & SUPPLIERS // Sourcing and securing appropriate sponsors for the event, in addition to designing unique activations for the sponsors.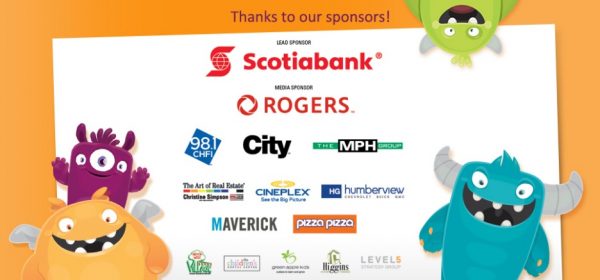 BRAND AMBASSADORS // Most importantly, it wouldn't be a Tigris event without our dynamic brand ambassadors! Tigris has 30 events staff onsite to assist with set up, tear down, and managing activations. Of the 30, 12 will be designated as market researchers to support the hospital collect information from community residents.
Seems like we've got it all under control, doesn't it?
Event Production for an Amazing Community Event
St. Joseph's Health Centre's Toronto West Halloween Fest is presented by Scotiabank. Join your community for our spirited Costume Parade a 1km walk through the neighbourhood with some special guests. There will be live entertainment and experiential activations for the entire family. In addition, we have themed Halloween treats and a pumpkin decorating station! The fun begins at the main stage on Bloor Street West and Windermere.
"St. Joe's is known for caring for kids. But our doctors and staff can't do it alone. Our Toronto West Halloween Fest is all about dressing up to show your support for children's care. Last year, parents brought their kids to St. Joe's more than 57,000 times. Your support today and on October 30th will help us build a better Paediatric Emergency Department just for kids. Together, we can keep the Promise to be there for our smallest patients and make this community one of the healthiest in Canada." (Support.St.Joe)
We look forward to seeing you on October 30th. Donate today to support a new Paediatrics Emergency at St. Josephs.
If you are looking to plan a large scale event, let our experienced team handle the event production. Contact Tigris today for a free quote on our promotions, marketing and event staffing services.