Our clients come to us with a wide arrange of requests. Depending on their needs and the scale of the event, we may provide Toronto event management support. Tigris event managers are encouraged when there are more than 5 staff working per shift. They will be the main point of contact for the onsite client, as well as for the Tigris account coordinator. Wondering what it takes to succeed as Toronto Event Manager? Below are 4 examples of recent events that required Toronto event management support.
4 Experiential Events with Toronto Event Management Support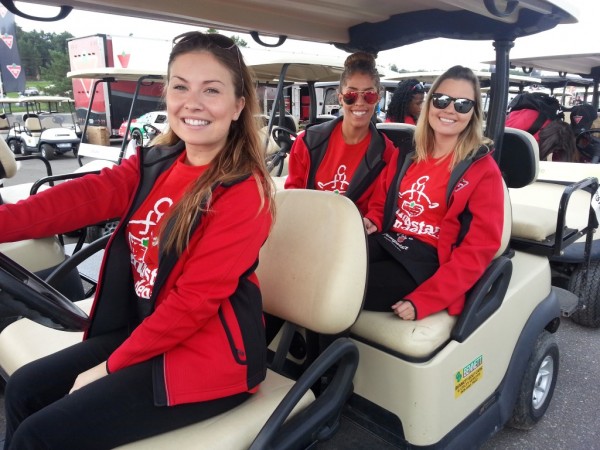 1. Canadian Tire NASCAR Opening Weekend
Where do you usually spend your May long weekend? If you haven't spent it at the Canadian Tire Motorsport Park to watch the NASCAR events, you are seriously missing out! Throughout the weekend, Tigris supplied 34 brand ambassadors and 1 event manager to shuttle guests around the large camp grounds. The event manager was responsible for ensuring all staff arrived onsite, on time and in uniform.
The large team was thankful for their event manager and her organization, stating that "The communication was excellent. I appreciated that she texted us before and after each shift; it felt like she really wanted to connect as a team." Along with daily reminders, the event manager ensured each brand ambassador received a lunch ticket, took a break, and handled safety concerns regarding the shuttle carts. With a large team of over 30 brand ambassadors, it's crucial to provide an event manager to troubleshoot any issues onsite and be a reliable point of contact for the staff, as well as the client.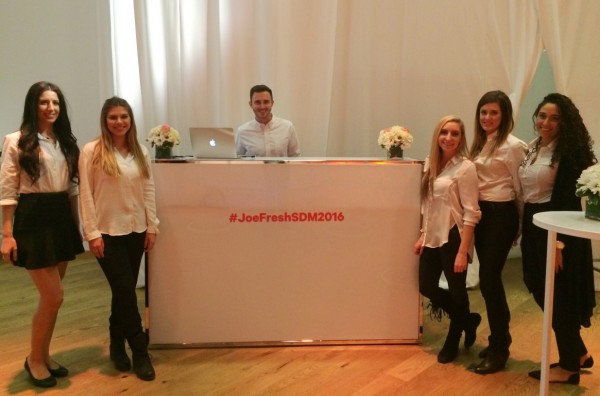 2. Joe Fresh Beauty Launch
Did you know Joe Fresh just launched a new beauty line? To mark the occasion, Joe Fresh, in association with LexPR & Shoppers Drug Mart, executed a beauty launch at the Artscape Sandbox in Toronto On January 20th. The event provided guests with access to new products via digital catalogues, select and take home fresh flowers, and leave with a gift bag containing Joe Fresh and Shoppers Drug Mart essentials.
Tigris supplied a team of 5 gorgeous promotional models and 1 experienced event manger to assist with the event. The venue was full of beauty bloggers and editors, so it was up to our Toronto event management support to ensure our team was on the ball. The team was kept busy setting up the event, welcoming guests, distributing gifts and assisting with beauty demos. The promotional models felt confident with their event manager, stating "She was very friendly and considerate. After the briefing from the client, our team lead reviewed the information with us. She made sure we each got a break and she was actively present throughout the entire shift". An event manager is there to take the lead, as well as ensure the team feels comfortable and are kept busy.
3. Facebook at Work Promotion
How to you manage several simultaneous events with over 10 brand ambassadors at each location? With the help of an event manager, of course! Tigris provided 10-20 brand ambassador at various locations in Toronto, Oakville, St Catharines and Welland to promote Facebook at Work to employees at Canadian Tire head offices. Our teams were decked out in Facebook branded attire encouraging and assisting employees to sign up for a Facebook at Work account. Participants were able to receive a 'swag' ticket, which they redeemed for their choice of selfie stick, portable battery charger or cupcake.
Tigris designated an event manager at each location to check in staff, take photos throughout the event, manage breaks and troubleshoot any issues onsite. The brand ambassadors were thankful for the extra support, stating "We had a fantastic team lead. They were the first to arrive (over a half hour before the scheduled shift) and they made a point of personally calling/texting everyone to ensure they knew where to go because the geography of the building was a bit confusing. They also ensured everyone was able to take a break, even though it was a busy day". Sometimes an exact meeting spot may not be easy to find, especially in a large building. Our event manager ensured their entire team knew exactly where to be!
4. Artemano Store Opening 
Do you love modern and contemporary design? If so, you must visit Artemano to see their vast selection of exotic solid wood furnitue and home décor. In assocation with MacIntyre Communications, Tigris provided 7 stylish brand ambassadors and 1 event manager to drive traffic in-store for the Artemano grand opening at Vaughan Mills. To encourage shoppers to visit the store, our team promoted a contest for a $3,000 shopping spree and free food tickets to use at a gourmet food truck outside the venue.
In addition to taking pictures and managing break times, the event manager took on the responsibility of sending team members to the mall entrance to generate more interest due to slow traffic in the morning. She then coordinated alternations between different locations so the team could maintain their energy.
Toronto Event Management Support from Top Event Staffing Agency
As you can see, an Event Manager must be confident, organized, a team player and reliable. Not just anyone can be trusted to provide Toronto event management support, which is why those who obtain this position on our roster have worked for Tigris for several years and proven their strengths through various events.
Tigris recently won the Top Choice Award for Top Event Staffing of 2016 in the Greater Toronto Area. Are you looking to collaborate with our award winning Toronto team? Tigris also operates in over 15 markets across Canada including Edmonton, Vancouver, Montreal and Calgary. Give us a call at 416-283-9119 for send an e-mail to info@tigriseventsinc.com for a free, no obligations quote.