One of the Top Toronto Event Staffing Agencies since 2004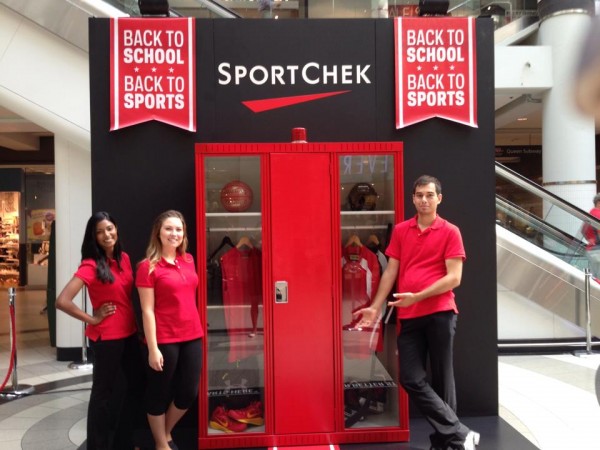 When you're considering partnering with a new company, what are some of the qualities you look for? To be considered one of the top Toronto event staffing agencies, you need to be consistent, professional and accountable for your team – and your work.
Over the past 10 years, Tigris has literally planned and staffed thousands of successful events for numerous clients and is regarded as one of the top Toronto event staffing agencies. While we started here; we certainly didn't stop. After two years in the biz, Tigris expanded nationally in 2006 and currently provided dedicated, energetic events staff from coast to coast!
As one of the top Toronto event staffing agencies, some of our keynote campaigns include:
-> The 2014 FIFA World Cup was the biggest sporting event of the summer and Tigris proudly managed a team of brand ambassadors to host the CBC World Cup Viewing Lounge at Toronto Eaton Centre Jun. 12-Jul. 13.
You can read on about this fabulous program and our national coverage by clicking here.
-> Teaming up with advertising powerhouse Zoom Media to execute over a dozen programs including the award-winning Tide Test in January 2013, sampling for Emergen-C, brand awareness for Yellow Pages and more!
-> Tigris has been working with Canadian Tire on local and national projects since May 2012, booking hundreds of dynamic events staff at NASCAR Races, Figure Skating Championships and other amazing events.
-> Ongoing sampling promotions for PMA Agencies, Churchill Cellars, Whitehall Agencies and Labatt
On the planning side, we have been coordinating the stage productions for Miss & Mr. CHIN at the CHIN Picnic annually since 2004.
High Expectations for Top Toronto Event Staffing Agencies
Think our clients have high expectations? Well ours are certainly higher!
To become a member of our exclusive roster, Tigris' regional account managers coordinate interviews in each city every 2-3 months so we can meet, screen and get to know each and every one of the brand ambassadors who will be representing our client's brands. Simply accepting a photo and a resume doesn't cut it but surprisingly, it does for many of our competitors. Investing the time into how we hire our staff allows us to understand who has the right look and personality to best match them for the range of events we have on the go.
It takes consistency to become one of the top Toronto event staffing agencies and to do so, we need to build a relationship with the team members we depend so heavily on for success.As much as we want to get to know them and build a level of comfort in booking them, they also need to trust us and know they can depend on us. Unfortunately, there are some companies who exploit the temporary staff on their roster by delaying/changing payment, sending them to events with little to no information or send them to events they may not be comfortable working with.
At Tigris, our events staff receive the basic information for the events they are interested in working in, in advance and if selected to work will receive a comprehensive training package outlining everything from team contact information and scheduling to key messaging and procedural guidelines. They are also paid within 2 weeks of the last day of their event (or on a pay schedule for longer programs) by direct deposit and receive a statement detailing everything comprised in that payment such as their hours, parking, training etc.
Temporary staffing isn't always the easiest industry but implementing a proven system of management techniques has contributed our growth and reputation as one of the top Toronto event staffing agencies along with one of the best across the country.
Give us a ring at 416-283-9119. Tigris' is one of the Top Toronto Event Staffing Agencies and one of the Best in Vancouver BC, Calgary AB and many other markets across the country.