Supercharge Your Health & Happiness! Attend a Symposium For Today's Busy Woman Presented By The Blissful Living Lounge.
Today's busy women constantly put themselves on the back burner. They put their partner, children, careers, and even their pets before themselves. They want to be valued and aim for perfection in all aspects of their life, often neglecting their own self-care. They become exhausted, burnt out, and unhappy. Do these characteristics ring a bell? if so, you aren't alone. Many women neglect their own feelings and forget to make their happiness a priority. Amanda Willett, self-love expert, acclaimed speaker and author, is fulfilling her mission of awakening women globally to help them realize it's not selfish to love yourself, take care of yourself and make your happiness a priority – it is necessary!
If you're in need of some tender self-love, self-care, and self-realization, treat yourself and attend the Blissful Living Lounge "Supercharge Your Health & Happiness", a symposium for today's busy woman. If you're a woman who's motivated to expand your sense of self and are here to make a big impact in the world, you will benefit from this workshop in more ways than one. You cannot fully help others if you do not take care of yourself first.

There will be 5 expert speakers in the areas of nutrition, beauty, natural healing, stress management and fitness. Here are the wellness experts that you can look forward to learning from that will help you on your journey to cultivating everyday bliss.
Self Love Activist, Amanda Willett :: Amanda, founder of Blissful Living Lounge, is a wellness coach that has trained in fitness, nutrition, time-management, human resources, self-image and business. She hosts monthly gatherings that are facilitated by her team of wellness experts who invite an opportunity for women to uncover their deepest desires, supporting them in speaking their truth and finding their own path to inner fulfillment, peace and happiness.
Wealth & Money Expert, Sara Zollo :: Sarah is a Sun Life Financial Adviser, equipped with her life insurance and mutual funds license along with her BA and Certified Health Insurance Specialist designation. She's appeared several times on CTV, BNN and Rogers Daytime. She provides her clients with an organized, down to earth, friendly experience at every stage of the financial planning process.
Motivational Performance Coach, Leo Daniel :: Leo educates women on the power of our body and mind and its ability to not only transform our spirit but our lives. Leo studies, lives and coaches a holistic approach to physical transformation that will encourage you to pursue your dream body & "Live Like Leo".
Executive Success Coach, Jacinth Tracey :: Jacinth wants to help women take control of their life, eliminate negative thoughts, feeling and behaviors, and overcome all barriers to your personal and professional success. CEO and Founder of Wired2Succeed, Jacinth will share her expertise and powerful tools on overcoming fears and self-sabotage.
Grief Expert, Cheryl Parker :: Cheryl will share her own healing journey through loss, while teaching techniques on our own path to wellness. She practices a variety of healing techniques with her clients such as Hypnotherapy, Touch for Health, Emotional Release, Reiki, and Emotion code. She is an author of Single Working Moms – A Journey to Greatness, and is launching a book titled, "My Good Grief Workbook" in 2015 to facilitate the healing journey through loss.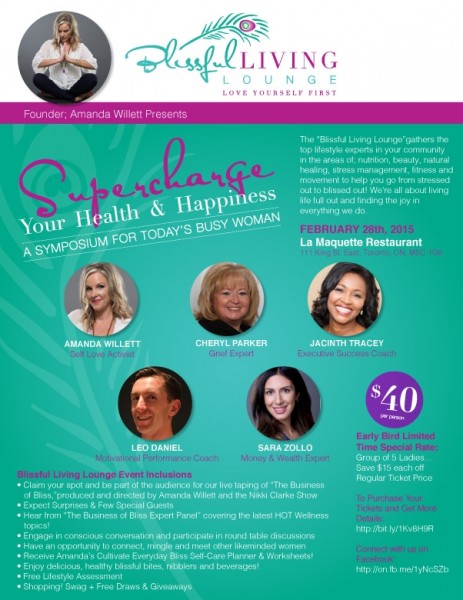 A Symposium for Today's Busy Woman: Learn To Achieve Self-Love & Growth
When: Saturday, February 28th 12:30pm-5:30pm
Where: La Maquette Restaurant | 111 King Street East, Toronto, ON M5C 1G
Passport to Bliss: $55.00
Early Bird RSVP – Girl Power (Group of 5): $40.00
There are only 20! Purchase your ticket here.
Enjoy complimentary consultations with the featured wellness professionals at the "Bliss Beauty Bar". You'll have the ability to connect, mingle and participate in conscious discussions with like-minded women. There is a free Lifestyle Assessment, shopping, free swag, appetizers and beverages, and much more!
This is a unique opportunity to connect with women in your area and learn from experts that will provide you with the necessary tips, tools and strategies to help you go from stressed out to blissed out. This supportive space will allow you to reconnect with your essential self. You will discover how to shift from survival mode into thriving mode. You will leave feeling refreshed and refocused – inspired to make yourself a top priority.