3 Promotional Staff Uniforms That Will Inspire Your Consumer
We've all heard it before, image is everything, and that's the truth when it comes to promotions! They say it takes only a tenth of a second to form an impression, so it's extremely important that at a first glance, your promotional team radiates a positive impression. Whether your team is hosting a party, sampling a new product or assisting at a community event, it is vital that the team radiates professionalism and represents your brand accurately. There are multiple types of uniforms a brand ambassador may be required to wear, ranging from custom designed apparel to themed costumes. Let's take a look at the 3 most common types of promotional staff uniforms our Tigris staff wear, and how these uniforms inspire our client's consumers.
1. Branded T-Shirts with Your Logo and Graphic
Here at Tigris, we offer our clients the opportunity to create branded uniforms for their promotional team. These require thought and effort; even it is as simple as a t-shirt! You must take into consideration colour, placement of the logo/graphics, cut and design. Many of our clients have come to our design team to create unique uniforms for our promotional staff to wear while representing their brand. Working alongside our supplier, Tigris has been able to design customized, branded t-shirts for Tide, Danone, Emergen-c, Appleton, Cloverleaf, Florastor, Yellow Pages and many more!

For the Tide promotion, in association with Zoom Media, Tigris designed crisp white t-shirts with a medium sized logo on the front. The back of the shirt said "Sweat the workout, not the laundry!". This was the perfect tagline for this promotion, which surprised and delighted gym-goers with a free sample of Tide, as well as complementary laundry service after their work out. Our staff were easily identifiable, and we ensured that all staff with longer hair had it tied back so the logo was clearly visible.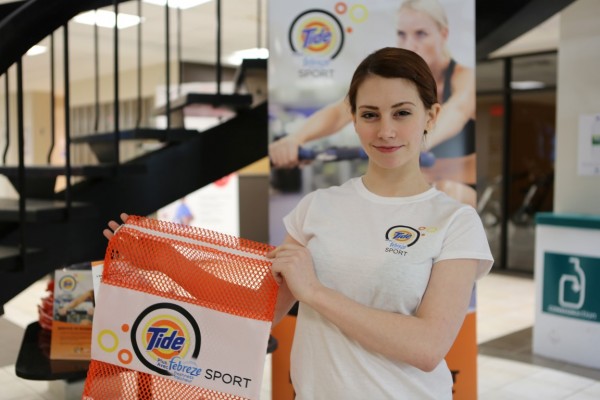 Whenever you have a team of promotional staff in a busy location, such as Union Station in Toronto or a busy transit station, it is crucial to ensure the staff will not be missed in the crowd. Tigris works with our clients and supplier to design appealing, brand related uniforms that will intrigue potential consumers and separate them from the crowd.
2. Custom Ordered Costumes
If you are hosting a themed event, it is crucial that the promotional staff match the theme. Throughout our 11 years of business, we have had requests for various holiday costumes, 1950's costumes, burlesque costumes, and even Asian themed dresses and suits! Having staff in a themed costume enhances the overall message of the promotion, draws attention to the staff and creates a believable environment for a special event or party.
Back in 2008, Tigris provided staff for Durex, in association with GCI Group. Our events staff hit busy intersections in Toronto and gave our free samples of Durex, with the message "Wrap Your Package". The best part was the "Sexy Santa" outfits. Tigris sourced a variety of options for our client, and then ordered the items requested for the event. The costumes turned out perfectly and were a huge hit with the public! As you can imagine, it was a little chilly outdoors so we sourced the most appealing "Sexy Santa" costume with maximum warmth. Our staff were asked multiple times where they had gotten the costumes because the public "just had to have them", and our staff were told "you look so cute!" over a thousand times. Pedestrians were drawn to our staff by the appealing costumes and it was a great conversation starter.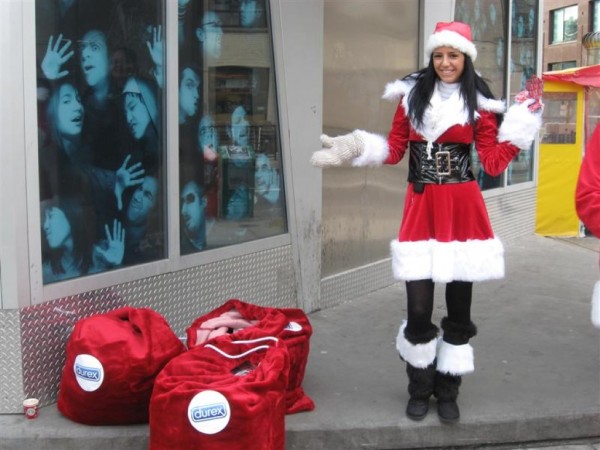 Another fun event which required custom ordered costumes was for the movie premier of Brooklyn during the Toronto International Film Festival. In association with Starshot, Tigris provided female and male promotional staff to host the private screening for RBC staff. To tie in with the theme of the movie, Tigris sourced 1950 style costumes for the men and women. The female staff were dressed in gorgeous blue dresses and were required to wear bright red lipstick. For the men, we sourced grey dress pants, suspenders, and white dress shirts. The costumes tied in directly with the movie and were a great success!
3. The Essentials – Black & White Attire
When working a job in promotions, there is a specific wardrobe that each events staff requires. Certain events do not require a branded uniform or special costume, simply appropriate professional attire. We've compiled a "Must-Have" list for all promotional models and brand ambassadors below.
Essential Wardrobe Pieces for Female Events Staff
• White Blouse
• Black Blouse
• Black Knee-Length Cocktail Dress
• Black Dress Heels
• Black Dress Pants
• Black Flats
Essential Wardrobe Pieces for Male Events Staff
• White Dress Shirt
• Black Dress Shirt
• Black Dress Pants
• Black Dress Shoes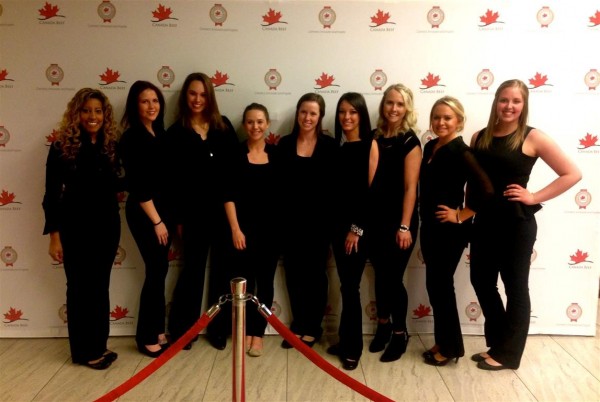 We require our staff to look and act professional at all events. Whether they are responsible for serving or registration, it is important that their appearance radiates expertise. Majority of the time, guests and/or consumers believe our staff have been working directly for our clients for years due to their knowledge and poise.
Promotional Staff Uniforms: Tigris Staff have Brains and Beauty!
We all agree that uniforms are a crucial part of any promotion, but not only do Tigris staff look the part, they speak the part as well. Our teams are always trained prior to an event with a conference call, detailed training package or onsite training. This ensures that our staff are educated to speak to potential consumers with confidence and ultimately sell your product or service with ease.
Tigris has been operating since 2004 and we provide services in marketing, personnel and promotions. Contact us today at 416-283-9119 for a free quote on any of our services. We provide services in over 15 markets across Canada including Toronto, Vancouver, Edmonton and Regina. You can also send an e-mail to info@tigriseventsinc.com to get the conversation started.