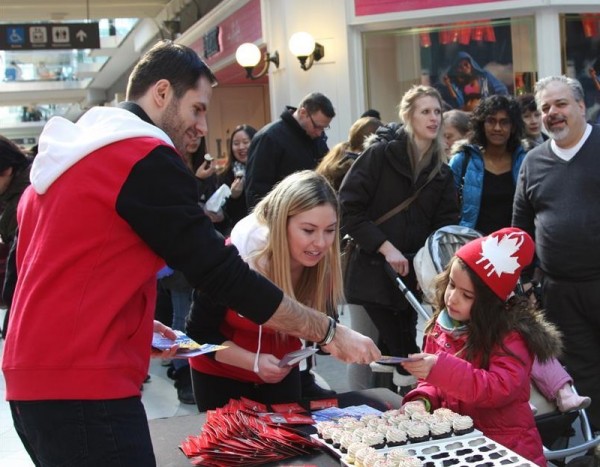 Chief brand officer of P&G, Marc Pritchard stated, "We need to … turn our attention to what really matters – the consumer experience." How does one focus on the consumer experience? You're in your high tower office, typing away and answering e-mails regarding your brand, but you aren't directly connecting with your consumers. What is your target audience doing right now? Who are they? What are they thinking?
If you want to connect with your current and potential consumers on a more personal level, you need to alter the interaction. Step away from traditional and online marketing for a moment and create a real life experience with promo staff; these individuals are able to act as an extension of your brand and create a memorable experience for your target demographic.
Bring Your Brand To Life With Professional Promo Staff Across Canada
How do you connect with qualified talent to represent your brand? You are able to make this connection through an event staffing agency. Once you have all the details of your event ironed out, it's important to choose the appropriate promo staff for your event. We make that easy for you by providing work histories, past client feedback and portfolios to narrow down the search. If you are still in the process of creating an event to create brand awareness and take your relationship with clients & consumers to the next level, here is a list of positions our promo staff have experience with:
Promo Staff Positions: Who Do You Need For Your Event?
*Baristas
*Street Teams (ex. Outdoor/Indoor Samplings)
*Bar/Nightclub Promoters
*Coat Check
*Greeter/Registration
*Hosts and Hostesses
*Cocktail Servers
*Golf Caddies
*Sports Events Staff
*Bartenders and Wait Staff
*In-Store Demonstrators
*Trade Show Hosts
Promo staff (or events staff) are able to act as chameleons. They will embody their attire, style and attitude and conform to your brand identity. Once you've established where you are able to effectively engage with your consumers (think about where they live, eat and play), you can then use promo staff, such as brand ambassadors or promotional models, to seamlessly represent your brand to achieve results.
Promo Staff Strategies: Creating A Memorable Experience For Your Consumer
When's the last time your favourite brand made an effort to connect with you? How did you feel after this experience? If this was a memorable and positive experience, you probably felt the need to share the details of this interaction with your friends, via social media. By creating one profound interaction with an individual, you are able to create a ripple effect. The 'fans' become your brand ambassadors as well. This effect not only comes from an experiential marketing experience, but may also be experienced from a private event, party, or bar promotion.
Remember the personnel who not only took your coat, but looked extremely professional (from their hair style right down to their shoes!), smiled and asked how you were doing? Remember the greeter who assisted you with registration, and answered all of your questions with a smile (even the ones that were pretty obvious!)? It's moments like these where the consumer or guest is able to truly experience your brand, right down to the finishing touch. They will feel valued and appreciated, creating brand loyalty.
A recent promotion we executed over the holidays is a great example. Tigris teamed up with event planning agency, Candice & Allison, to execute a VIP Concierge promotion for Ivanhoe Cambridge at the Outlet Collection Niagara. The retailer knows that their open air shopping centre is one of a kind – with close to 100 brand name stores, the outdoor mall is one you need to check out, if you haven't already!
We can all agree that shopping at box stores and outdoor malls is great in the warmer seasons, but how do you attract consumers during the colder months? With the holidays approaching, we worked with our client to create an outdoor experience for consumers with promo staff to ensure their outdoor shopping experience was one of a kind. For 3 consecutive weekends, Tigris provided 4 promo staff and one team lead to distribute candy canes & hand warmers to shoppers along with making s'mores and wrapping gifts – all for free!
Here are a few shopper testimonials from this unique promotion:
-"This is an awesome idea!"
-"Thank you, this is so thoughtful!"
-"You just made my day!"
From these testimonials, you can bet that these guests will be visiting the Outlet Collection all year round. Our promo staff was able to act as an extension of the brand for our clients and provide professional service with amazing results.
Do you know what your plans are to create a unique customer experience? If not, we hope we've planted some ideas in your head. If you're looking to create a memorable customer experience with the use of promo staff, contact Tigris today at 416.283.9119 so we can discuss the needs of your brand and see how we can help.
Not only are we able to provide promo staff for your event, but we can assist with the development of your event, start to finish. We are a brand experience agency dedicated to bringing your brand to life with the right people. Our services are available in over 15 markets across Canada, including Toronto, Vancouver and Montreal.