Canada's 150th birthday was an opportunity to showcase All Weather Windows' industry-leading innovation while also highlighting their own Canadian story. To celebrate Canada's 150th birthday and the diversity of the Canadian population, AWW created a lens (or window) to see that through. The window was used to engage Canadians at various events across Canada. Our Alberta Events Staff were responsible for managing the setup, tear down and social activation for All Weather Windows at the Sherwood Park Canada Day Festival.
Alberta Events Staff Capture Memorable Moments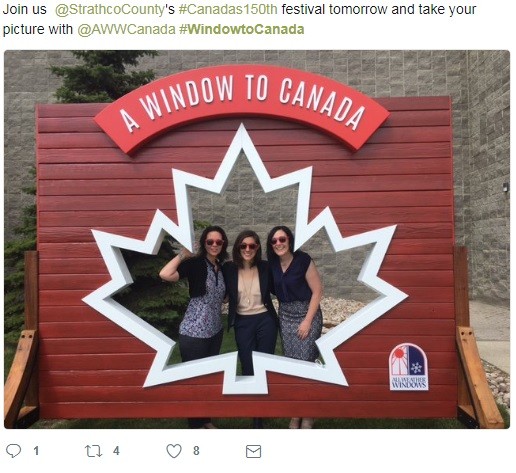 Guests absolutely loved the Window to Canada. International families created new memories with this Canadian staple. Proud Canadian families kept asking how long the window will be there and if they will be able to come and take another photo the next few days. Below are a few participant testimonials:
"So grateful that we could be a part of this awesome celebration. Thanks for helping make it even more special for us."
"I hope that they keep the Maple Leaf frame and use it often."
"Thanks for sharing the Maple Leaf frame at the Canada Day celebrations! Such an awesome way to create memories to treasure!"
"This is an excellent idea, we will have this memory of Canada forever."
"We are such proud Canadians, wish there was an installation like this somewhere in town."
Do you need Alberta events staff to bring your event to life? Contact Tigris today for a free quote!