We will develop an experiential marketing plan that simultaneously communicates your brand and engages your target consumers while temporary staff from our roster follow through with its dynamic execution. – watch video
Temporary Staffing Agency
Tigris' temporary staffing team will immerse itself in your business and your brand, thereby enabling them to interact with your existing and potential clients at a level far superior than the industry standard. – watch video
Experiential Marketing & Temporary Staffing Excellence
Bringing Brands to Life with The Power of Presence
Tigris Incorporated is Canada's #1 Experiential Marketing Agency, dedicated to developing and executing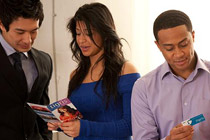 meaningful consumer connections to boost brand awareness and sales.
Creating an association that is both relevant and significant to your customer, while simultaneously delivering your company's key messages, will result in a long-term loyalty to your brand.
We believe in the value of understanding your target market so we can implement innovative event solutions, and provide valuable market research results, that will directly impact your bottom line.
Dynamic Event Staffing & Experiential Marketing Services
Tigris is a leader in exemplary event management. We believe that any event or program is only as strong as the event management we have behind it.
Our internal experiential marketing team can quickly and efficiently engineer a campaign to strengthen your brand position and presence at any of the types of events and more.
Tigris prides itself on hiring staff who have the beauty and the brains behind successful branding. This talent includes male promotional models, female promotional models and photo/video shoot models.
Our roster is home to hundreds of upbeat, enthusiastic events staff ranging from brand ambassadors to charity and trade show staff. Bringing brands to life with the power of presence is our goal at every one of our events.