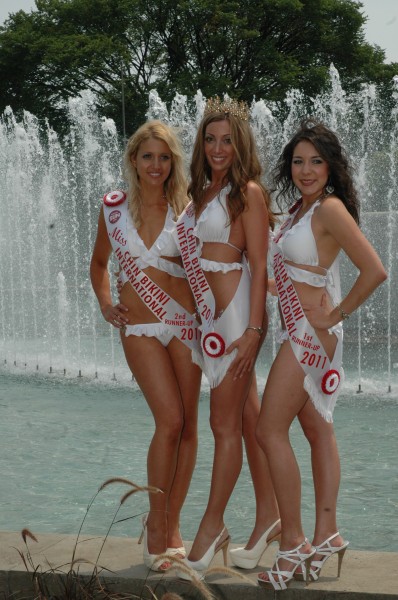 Event Agency for such a Big Event is all about Organization!
Top event agency in Toronto, Tigris, has been producing the stage productions for Miss & Mr. CHIN since 2004.They recruit and manage the contestants in addition to TV appearances, coordinating a series of pre-promotional events, choreography, decor, apparel, prizing, scripts and even hosting! This year, CHIN Radio celebrated their 45th anniversary of the CHIN picnic Jul. 1-3 weekend, the highlight being Miss & Mr. CHIN Bikini.
For this year, the event rentals agency put together a South Beach theme for the Miss CHIN contestants and a Bachelorette themed show for Mr. CHIN. Apparel and swimsuits were designed by Dea Fashion and choreography by Faye Rauw of Fayez1 Productions.

Twenty-two Miss CHIN finalists took the stage on Sat., July 2 at 12pm and 12 Mr. CHIN finalists Sun., Jul. 3 at 6:30pm for the chance to win more than $5000 in prizes including a home theatre system, jewellery and other amazing items.
This year's winners for Miss CHIN are:
1st Place: Serena DiMillo | 2nd Place: Katie Gimon-Valencia | 3rd Place: Cristina Odorico
This year's winners for Mr. CHIN are:
1st Place: Moonzir Butt | 2nd Place: John Burdo | 3rd Place: Troy Campbell
An Event Agency… and Judging?
Choosing Miss & Mr. CHIN is not an easy task. As such, the contestants are scored on 40% interview, 40% onstage the day of the show, 10% for their participation at all of the pre-promotional events that run from May-June and 10% for online voting, which is sponsored by Paul Buceta.
Judges are instructed to look for qualities including intelligence, beauty, poise and grace. Ultimately CHIN Radio is looking for strong spokesperson for their male and female winners to represent their company and sponsors at community events throughout the year as well as next year's show/picnic. The event rentalscommunicates this to contenders when they apply and also to judges scoring them the day of.
For video footage of Miss CHIN contestants in action, go to:
http://www.torontosun.com/2011/07/02/miss-chin-bikini-a-real-crowd-pleaser
2012 planning for a fresh batch of contestants and the event agency will begin again in March.