Now that it's mid-August, end of summer events & back to school promotions are in full swing! Of course, no one likes to acknowledge that it's the end of summer. Although the season is coming to an end, there are still plenty of events to look forward to! As you know, Tigris operates nationwide across Canada, and we are looking forward to several upcoming events across the country.
Toronto End of Summer Events
All of us in Toronto know it's the end of summer when we here "Let go to the Ex!" commercials. The Canadian National Exhibition (CNE), also known as The Ex, is a family friendly event August 19 to September 5. There is so much to do and see at this popular exhibition. Some popular events include the air show, casino and sand sculpting competition.
There are also hundreds of vendors that are dispersed along the grounds of the festival. This year, Tigris is supporting two of our clients at the exhibition: Avicenna and Uncle Ben's, in association with Roaming Hunger. The Avicenna booth will include two Tigris brand ambassadors per day, whom are responsible for show set-up and sales. Avicenna produces high-quality aromatherapy medical therapeutics for home, travel, and work. These items provide natural, safe and effective solutions for ailments associated with adult everyday living, as well as specific products for women, men, seniors and children, sports and outdoor activities.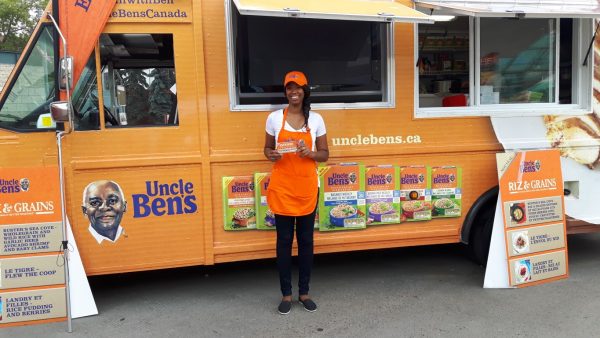 Our Uncle Ben's team will be hard to miss in their branded Uncle Ben's orange apron and baseball caps! Stop by the Uncle Ben's Rice and Grains Food Truck to try the winning recipes from the Food Truck Challenge. The winning recipes created by Buster's Sea Cove for Toronto, Le Tigre for Vancouver and Landry et Filles in Montreal are extremely creative and delicious! The purpose of the challenge was to spread brand awareness of the new product. In addition, consumers were inspired to creative new dishes with what appears to be a simple ingredient.
Celebrate the Last Long Weekend of the Summer at Motorsport Park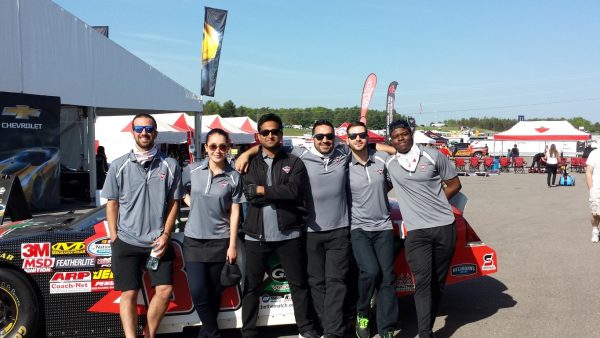 Labour Day Weekend is the last long weekend of the summer, and it's jam-packed with events! Over 20 Tigris brand ambassador will be at the Canadian Tire Motorsport Park in Bomanville, Ontario September 3-4. The NASCAR Camping World Truck Series make its only Canadian appearance for the Chevrolet Silverado 250. This year, the event returns to its traditional Labour Day date.
If you've been to the park before, you'll know it's huge!! To support campers, Tigris provides a team of shuttle kart drivers for the weekend. The drivers transport campers from their campsites to prime locations throughout the park to watch the races. Our team will also support a few interactive activities at the Fan Zone for guests to participate in, for free!
Vancouver End of Summer Events
Vancouver has it's own version of the CNE, called the PNE (Pacific National Exhibition). Similar to the CNE, the PNE has a fair, and multiple attractions including rides, games and food. Our Avicenna team will be executing onsite August 20 to September 4. Stop by the booth to try their quality aromatherapy products!
In addition to the Avicenna booth, our team is executing a promotion for Coca-Cola, in association with LPi Group. Our events team will execute a brand experience to surprise and delight consumers. This includes handing out Coca-Cola product, vouchers and swag. If you're interested in grabbing free swag, look out for our branded team along the midway!
Back to School Promotions
Tigris has assisted with several back to school promotions throughout our 12 years in business. These include retail promotions and campus promotions. Earlier this year, Tigris worked with FILO productions to execute events surrounding the NBA All Star Tour across Canada. The end of summer events with FILO include a NBA Campus Pass Tour at Queens University (Kingston, ON), University of Saskatchewan (Saskatoon, SK) and University of Manitoba (Winnipeg, MB). We will be supporting the client with athletic, basketball enthusiasts to host a series of campus events.
Last but not least, Tigris is executing a campus promotion for Add Impact. The event takes place August 30-September 1 at Humber Campus in Ontario. Our team will be surveying students across campus.
Tigris Events Staff for End of Summer Events
Summer is quickly coming to an end, and events are in full swing! If you are looking for a dynamic events team to support, execute and staff your event, contact Tigris today. We operate in over 15 markets across Canada with over 2,000 talented events staff on our roster.