Experiential summer events are the perfect tool to leverage your brand, wouldn't you agree? There are thousands of high traffic events across the country happening every week! Of course, not every event will suit your brand. It's important to decide on a theme that directly relates to your mission and product. As a result, consumers will understand why your brand is attending the specific festival, concert or event.
Tigris teamed up with 6 Degrees Communication, Royale and Irving Oil once again for their 2016 Summer Tour. To leverage and promote Tiger Towel's "Food Truck" TV spot, the brand decided to participate in food related events across Canada. In addition to promoting the TV spot, their main goal is to drive product trail.
What comes to mind when you think of Tiger Towel Paper Towel? If strong, durable and tough comes to mind (like a Tiger), you're correct! Tiger Towel Paper Towel can stand up against the toughest messes – it can even withstand washing dishes emerged in water.
Creating Experiential Summer Events to Amplify Royale Tiger Towel
How do you excite consumers about paper towel? Our client designed an interactive, informative, engaging and memorable activation for each food related event. These experiential activations were designed to created a memorable brand experience for the consumer.
The experiences at the experiential summer events were also designed to promote Royale Tiger Towel's newest product, the Full Sheet (big sheets designed for big messes). Our brand ambassadors are responsible for bringing each activation to life, and clearly communicating Royale's main point of difference, "Tiger Strong. Tiger Clean."
Consumers are more likely to purchase a product they've had a memorable, positive experience with. To extend the Food Truck TV spot into real life, Royale is activating at numerous food truck festivals across Canada. These include the Toronto Food Truck Festival, Mississauga Rotary Rib Fest, Taste of Calgary, Le Grande Poutine Fest Montreal, and ManyFest Winnipeg. These events are high traffic, family friendly festivals that correlate directly with the food truck theme.
Bringing Experiential Summer Events to Life with Tigris Brand Ambassadors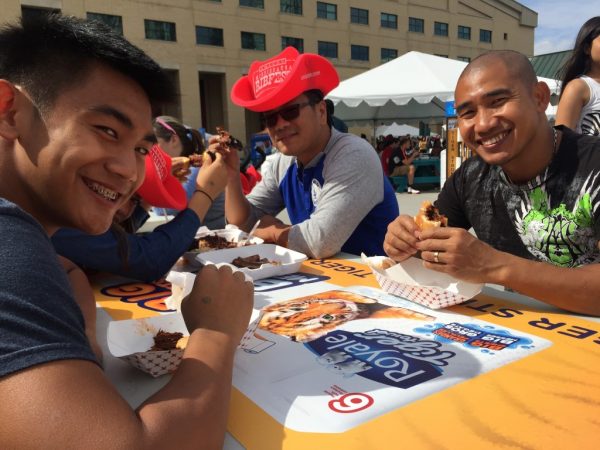 Experiential summer events can include couponing, prize giveaways and product sampling. At each event, Royale Tiger Towel has multiple 'touch points' that were extremely relevant to the brand and theme. As a result, consumers become interested and excited about paper towel!
Branded Dispensers & Tablecloths
Because food festivals can become quite messy, Royale Tiger Towel created branded paper towel dispensers throughout the eating area of each festival. They also designed branded adhesive table cloths for the festival eating areas. This subtle way of branding implements the brand into the guests mind. Although it is not experiential, it is a great way to introduce the brand to the consumer so they become familiar with the product.
Scrub and Win Game
Most of all, guests absolutely love the interactive "Scrub and Win" game, where they are able to win great prizes! Our brand ambassadors are responsible for preparing the game, distributing prizes, and briefing consumers on how to play. Consumers receive one piece of Royale Tiger Towel Paper to 'scrub' the coating off a game tile of their choice to reveal a prize. Prizes include branded beach towels, tote bags, coupons and stuffed Tigers!
Life Size Cut Out 
For families, Tiger Towel designed a life size Tiger cardboard design with a cutout on the face, for kids and families to take their pictures in. Our brand ambassadors promoted #TigerStrong, and encouraged families to share their photos on social media.
Are You Interested in Creating Experiential Summer Events?
The Tiger Towel 2016 Summer Tour is extremely unique and impacts thousands of potential consumers. If you're interesting in incorporating experiential marketing into your summer, contact Tigris today! We are able to assist with the planning, staffing and execution of your event. Tigris operates in over 15 markets across Canada with over 1,500 events staff including Toronto, Calgary, Edmonton and Ottawa.