Amy has worked for Tigris part-time since 2011 but recently joined our head office as an account coordinator in 2015. She was promoted to management in summer 2016. Her primary accounts include the Grace Kennedy Foods, Toronto Star and 6 Degrees. Learn more about Amy, our Staffing Account Manager, and you'll discover why we adore this adventure junkie!
How did your journey with Tigris begin?
I honestly had no idea that this industry even existed until one of my girl friends recommended me to apply when I was looking for a part time job! The year was 2011 and it was the beginning of my journey with Tigris.
I still remember one of the first events I worked – conducting the Metrolinx surveys for Hotspex at the YYZ, asking if people thought connecting Union and Pearson airport was a good idea. Now, six years later, we have the UP Express!
In the fall of 2012, I went abroad to teach Math and Science and had to say goodbye to Tigris. Once I returned in 2014, Tigris welcomed me with open arms and booked me for a number of events while I hunted for a full-time teaching position. During this time, I fell in love with the events industry and decided that I wanted a career out of it! Low and behold, who decides to post a job opening for an Account Coordinator other than Tigris? I jumped at the opportunity and landed the position in Sept, 2015. I was then promoted to an Account Manager by the summer of 2016.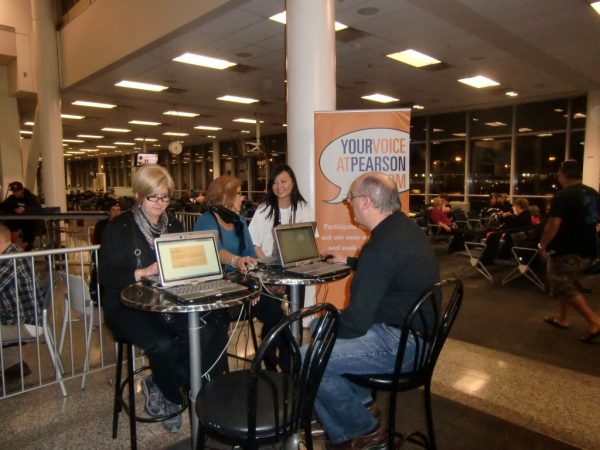 What motivates you to get up and do a great job every day as a Staffing Account Manager?
I'm motivated by the fact that I get to work with the awesome ladies here at Head Office. They're professional, fun, and very hard working. Serena is also a really generous, supportive and laid back boss who embodies excellent leadership skills. She strives to provide everything I need for success, which makes it easy for me to go above and beyond.
I'm also the kind of person who doesn't like to let anyone down, whether it's clients, staff, or my coworkers. If I need to recruit 14 new bilingual staff out in Calgary within two weeks while sourcing uniforms for all staff, Chinese New Year décor for five show homes, and finger foods for 500 guests, then gosh darn I'll do it with bells on!
I actually recently went to Vietnam for vacation as a birthday treat to myself and found myself looking forward to coming back to work. That's when you know you're in the right career, working for the best company.
If you could go one place in the world, where would it be and why?
I can't choose just one; there are so many places I'd like to check out! Since I'm a restless adventure junkie, top on the list are Zhangjiajie (China), Galapagos Islands, New Zealand, Australia, and Norway!
What makes your life rewarding?
Life is what you make of it, and I've learned the importance of creating a work/life balance so I can pursue my hobbies and interests. Working at Tigris allows me to do that. I make a point to travel to new, exotic places at least twice a year. Oh, and eating lots of good food.
Is a Staffing Account Manager what you always wanted to do growing up?
As I've mentioned before, I never knew that this industry even existed until 2011! Before then, I had aspirations of becoming many different things, including a neurosurgeon, a shoe designer, a marine biologist, and a web/mobile developer. However, I learned that I can't handle blood and gore and I can't really draw well. Maybe there's still hope in becoming the latter!
Describe your ideal weekend.
My ideal weekend would involve jetting away to the Blue Lagoons in Iceland for a nice warm dip in the geothermal spa!
If You Could Live In A Book, TV Show Or Movie, What Would It Be?
I'd be in "The New Girl" or "The Mindy Project" as the main character.
What are the three top traits you look for in a best friend?
I would want a friend who's as crazy and adventurous as me and can tell Dad Jokes with a straight face.
Dead or Alive, who would you have dinner with and what would you order?
I would love to have dinner with Kim Jung Un and just find out what his deal is. But, I would probably bring my own food.
Tigris works with many young professionals. Do you have any advice for the staff you work with?
I never had the opportunity to work in promotional events when I was in university so I say take advantage of it! You get to meet so many interesting people, which is perfect for networking. You can also learn a lot about yourself through working with different individuals – what you're capable of, what your pet peeves are, how to deal with conflicts, etc. Most importantly, since you're working behind the scenes for many businesses and brands, you can gain insight into the kind of career you want. Therefore, don't just work at events to make money. Keep your eyes peeled for those rare prospects that may launch you to success!
-Amy Zhou, Staffing Account Manager