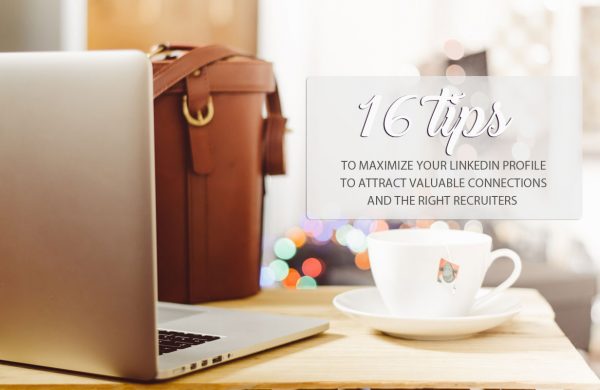 If you've been wondering if people are still using LinkedIn, the answer is yes. As of 2016, LinkedIn aggregates over 77% of jobs in America with more than 400 million users. Whether you are job hunting or content in your current position, it's important to have a professional LinkedIn profile. Not sure where to start, or if you've been using this platform correctly? Here are 16 tips to maximize your LinkedIn profile to attract valuable connections and interest the right recruiters.
1. Professional Profile Picture
Members with a profile photo receive up to 21x more profile views and 9x more connection requests. This shouldn't be the same photo you'd use on Instagram or Facebook. Make sure it's a clear, recent professional head shot. If it's more than 2 years old, it's time to take a new one!
2. Include a Background Photo
LinkedIn recommends a background photo size of 1584 x 396 pixels, and that it must be a JPG, PNG, or GIF file under 8MB; this photo can showcase your interests and talents. I've found some great images on this website that highlight my interests and showcase my personality.
3. Use Keywords
Include keywords you want to be recognized for throughout your profile. Start with the headline, sprinkle it throughout your bio, work experience and skills. Keyword phrases can include job titles and professional skills, such as "Marketing Manager – Experiential Event Planning and Staffing". LinkedIn SEO is a crucial strategy that, if used correctly, will have your profile popping up in hundreds of related search results.
4. Don't Neglect Your Opening Bio
Your profile summary is prime real estate for your professional brand. Don't be afraid to make it long, personal and relatable. I recommend writing this in the first person. Include your interests, skills and a call to action. In addition, links to your personal website or projects you've worked on is a great touch. Why should someone connect with you, or hire you? This is your time to sell yourself.
5. Don't Duplicate Your Resume
The wonderful thing about LinkedIn is all your skills and work experience doesn't have to be condensed into one page. You can dig deep and share your accomplishments. Don't simply import your resume, but elaborate on each position and share related links to showcase your work.
6. Build Your Skills
You're more likely to find opportunities if you list more than 5 skills; this is another spot to add in key words for SEO. Relevant skills include public speaking, photography, Photoshop, etc.
7. Every Connection Counts
Build your contact list with your current network; this can include your friends, family, people you went to school with, past employers, current employer and co-workers. Under 'My Network', LinkedIn lists people you may know; it's important to only add people you personally know. When adding contacts you don't know (such as someone who works for an agency you'd love to work at), make sure you introduce yourself. Include 2-3 lines addressing why you'd like to connect with them to make the invitation personal, otherwise they may ignore your request to connect.
8. Publish an Article
Once you feel confident in your LinkedIn profile, drive traffic to your page by writing and sharing articles. Be careful with the subject – this is a professional network! I wrote "Networking for Newbies: How to Build Professional Relationships" to share my personal experience on expanding my network. This article received 3,746 views, 230 likes and 30 comments! In addition, the article was shared on other websites, making me a credible author that others wanted to follow for recent updates.
9. Share Articles
If you aren't confident publishing your own article, share articles that you are passionate about. This can be a current trend or a buzzworthy topic you have an opinion about. By sharing an article, this will spark conversation within your network. Other LinkedIn members will see their connections commenting on your article, which may lead to a new connection for you. In addition, you can join conversations by commenting on updates shared by your network.
10. Condense and Customize Your URL
While editing your profile, there is an option to edit your public profile URL. I would recommend using your name or personal brand. If your name is already taken, flip the order of your first and last name. Don't include any nick names or alter egos.
11. Join LinkedIn Groups
LinkedIn groups allow professionals with similar interests to share content, find answers, post and view jobs, and make business contacts. To find new groups to join, use the search feature at the top of your home page; it's a fantastic way to make new connections and establish yourself as an industry expert.
12. Make Your Email Address Public
Although recruiters can contact you through LinkedIn messaging, making your email address public allows recruiters and new contacts to directly connect with you. Whether you chose to include your work or personal email is up to you. If you're displaying your personal email, ensure it's professional, such as your first and last name.
13. Ask to be Recommended
This adds personality to your profile and helps build trust with new connections. Recommendations are more personal than endorsements and require some time and effort from your contacts. Instead of using the feature 'ask to be recommended', I suggest personally contacting the professional of your choice to write a recommendation. Currently, I have 4 recommendations from previous and current co-workers and employers. Don't forget to give a recommendation after you've received one!
14. Don't Be Afraid to Brag!
Share recent accomplishments as a status update to showcase what you've been working on. This is the place to brag; you've been working hard! Don't forget to include recent accomplishments directly on your LinkedIn profile as well.
15. Read the Official LinkedIn Blog
This is the perfect place to learn tips, tricks and updates, directly from LinkedIn. Follow the blog to make the most of the platform and ensure you are using it correctly.
16. See How You're Being Discovered
After all the work you've put into your LinkedIn profile, you want to make sure you're getting noticed by the right people. On your dashboard, you'll be able to see the number of users who viewed your profile. In addition, the number of search appearances you appeared in will be showcased. Don't worry, this imformation is private to you! When clicking on search appearances, you'll be able to see where your searchers work, what your searchers do and the keywords your searchers used.
Have you tried any of these 16 tips? If you have any tips to share that aren't listed above, I'd love to hear from you! Share your tips for maximizing your LinkedIn profile to attract valuable connections and interest from the right recruiters by emailing ndelorme@tigriseventsinc.com.